Medical furniture adjustable folding desk frame for touching screen
Product Description
Medical furniture adjustable folding desk frame for touching screen

 FOSHAN CHANGTENG INTELLIGENT CO.LTD is determined to create the healthy office and 
improve people's working efficiency by 
exploring office intelligent furniture. Height adjustable desk
 provide the best environment when we are working in the 
office. So, we hope our products will continue to surprise you and give a happy experience.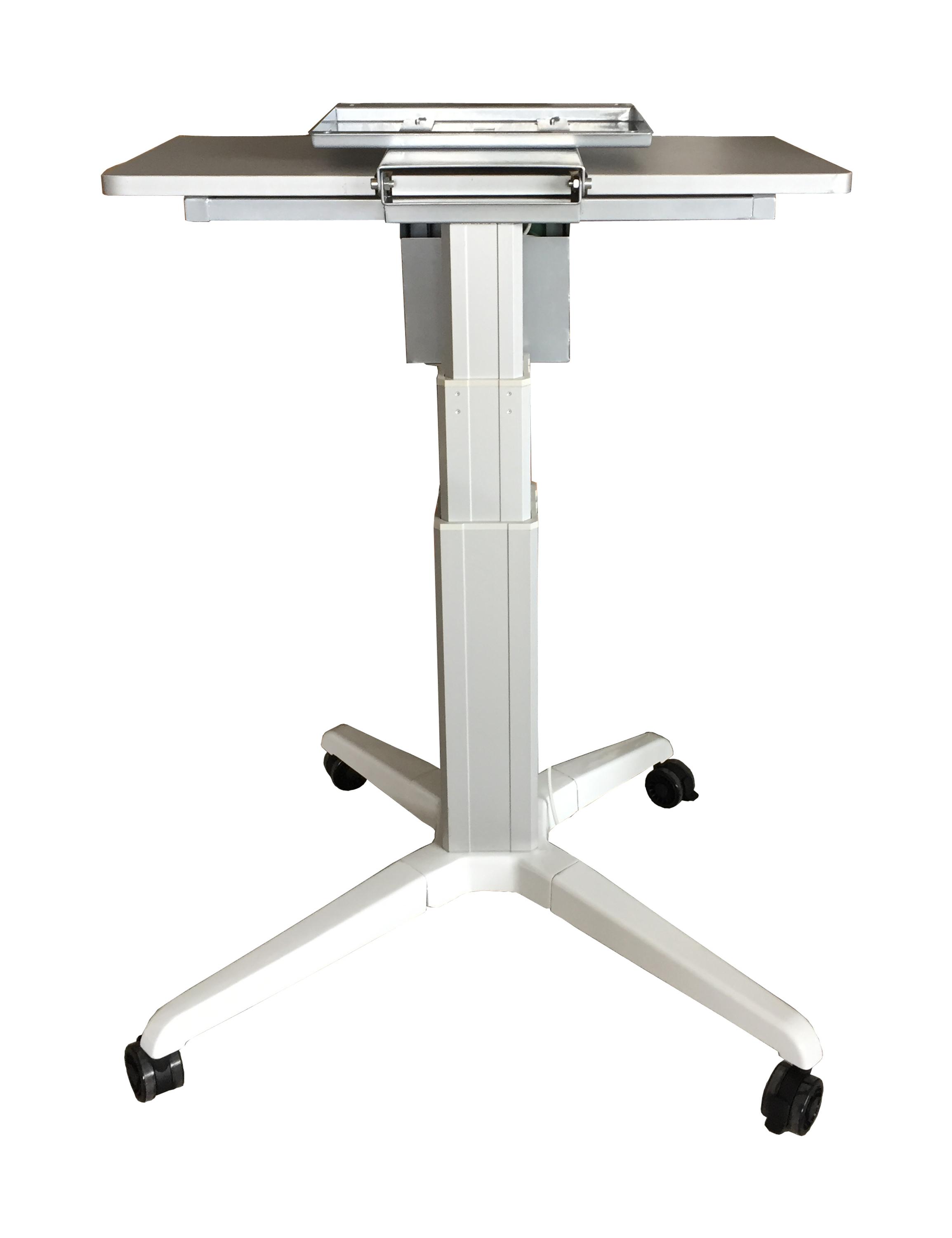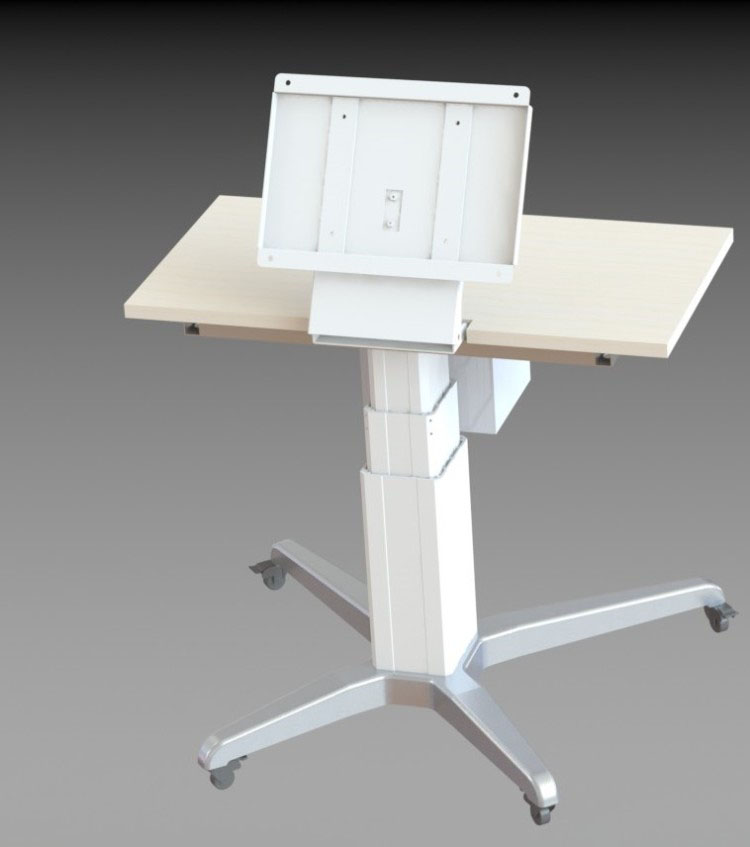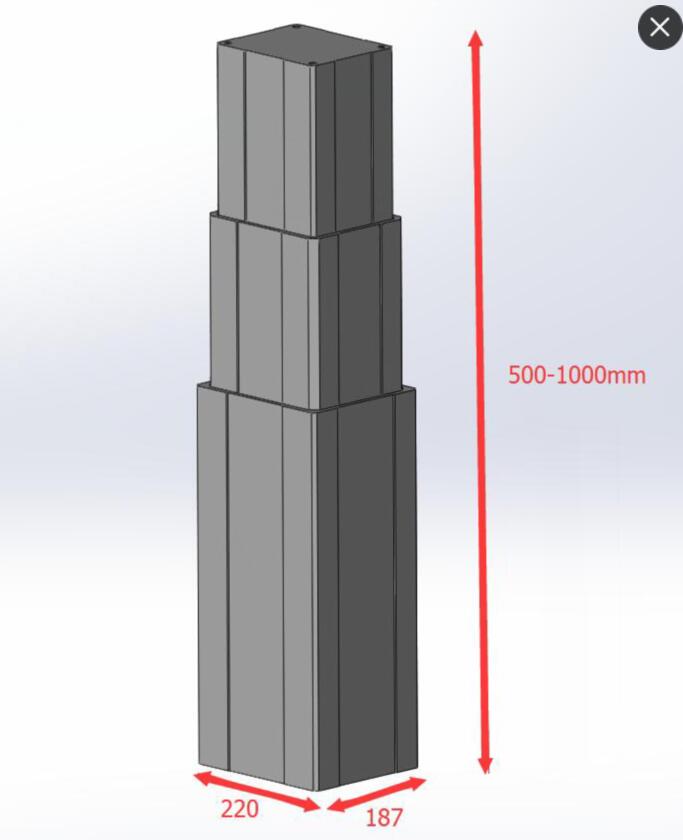 b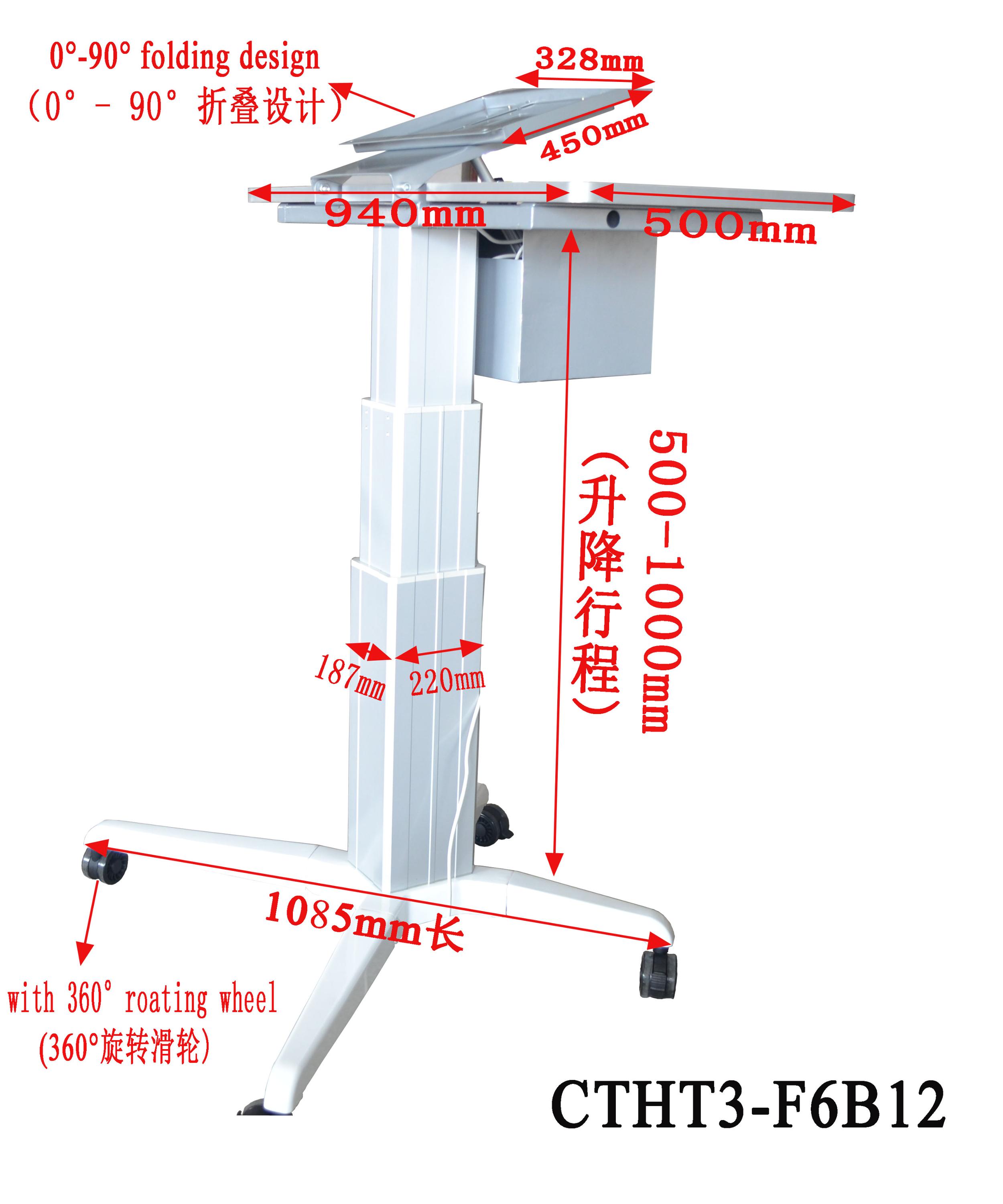 ls
HEALTHY
 1. Height adjustable desk will solve all these healthy questions and it can make you 
become health and fitness. Standing or frequent change of position strengthens your 
muscles, results in a high basic metabolism and high consumption of calories.
EFFICIENCY
2. Height adjustable desk will improve work efficiency. New study show that when 
people are standing, decisions are made faster than sitting. There is no doubt height
 desk is not only raise its height, but also raise your work efficiency.
FELXIBILITY
3.Nowadays, a flexible office workplace is requested. Height adjustable desk increase 
the flexibility of office, and active workplace can help us handle the pressure.

Technical Specification

Product Description

Three section aluminum alloy columns, single leg, with folding function. Can be folded from 0°to 90°.

Panel Material

16 to 25 mm MFC, medium density fiberboard (MDF) or bamboo boards, customized is welcome.

Frame size

Leg size is 1085 mm,Lifting columns tube size is 220 x 187 mm. 

Panel Size

940*500 or other size, customized is also welcome.

Eccentric Load

1000N per leg

Totally 1000N.

Frame Color

White,Black,Silver

The Minimum Height

500mm

The Maximum Height

1000mm

Loading Lifting Speed (mm/s)

10, it is adjustable.

Standard Stroke (mm)

100-400(option could be>400)

Input Voltage for Lifting motor

24 VDC

Maximum Thrust/traction(N) per leg

2000 N

Locking strength(push)*(pull)

2000 N

Option Specification

Pulse control system with senser of HALL as option

Input Voltage for control box(VAC)

Input at 110 or 230V AC. Output at 24VDC.

Duty cycle

10%, 5minute lifting with 20minute off for protecting motor

Material of lifting table frame

Aluminum alloy frame

Operation Temperature

0°C-45°C,suggested temperature to protect electronic.

Material

1,iron powder, aluminum alloy die-casting and plastic accessories, hardened gear.

2,Contains electronic accessories, such as the motor, chips, power coated.

Motor Number

Each leg with one motor, synchronous pulse control system.

Motors lifting together number

One set with 1 legs only have one motors.

Warranty

For Non-human factors, electric part is guaranteed for one years,frame is guaranteed for two yeas.

Remarks

1. Table frame is according to what you need, height adjustable range is 500-1000 mm.

2. Each foot contains four cups which are slightly adjustable for floor height , here can be 360 ° brakes rotate rolling wheels.

3.Our factory's product is based on the requirement at the European & USA quality, and manufactured in China.

4.Normally the price does not including tax, freight, and packing, except special order and special circumstances according to different PI, customized is welcome. A regional package delivery can be accepted and door-to-door delivery in the city for big quantity.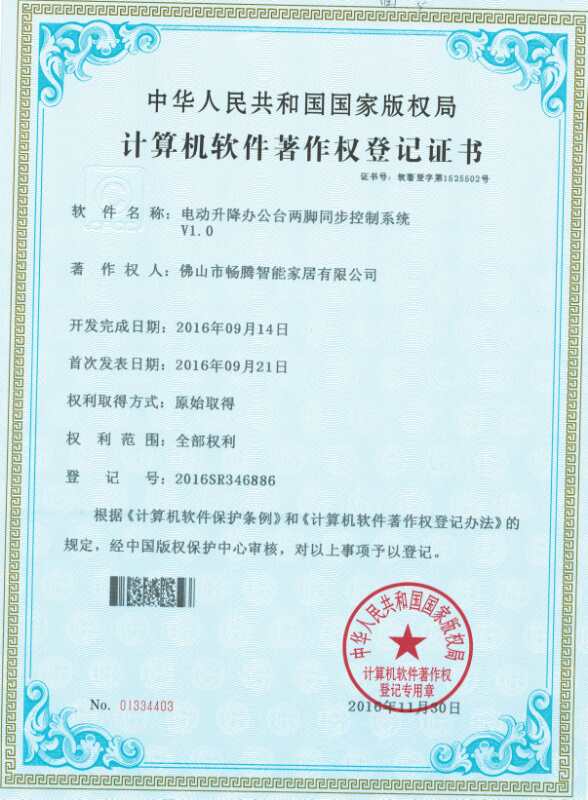 FOSHAN CHANGTENG INTELLIGENT CO.,LIMITED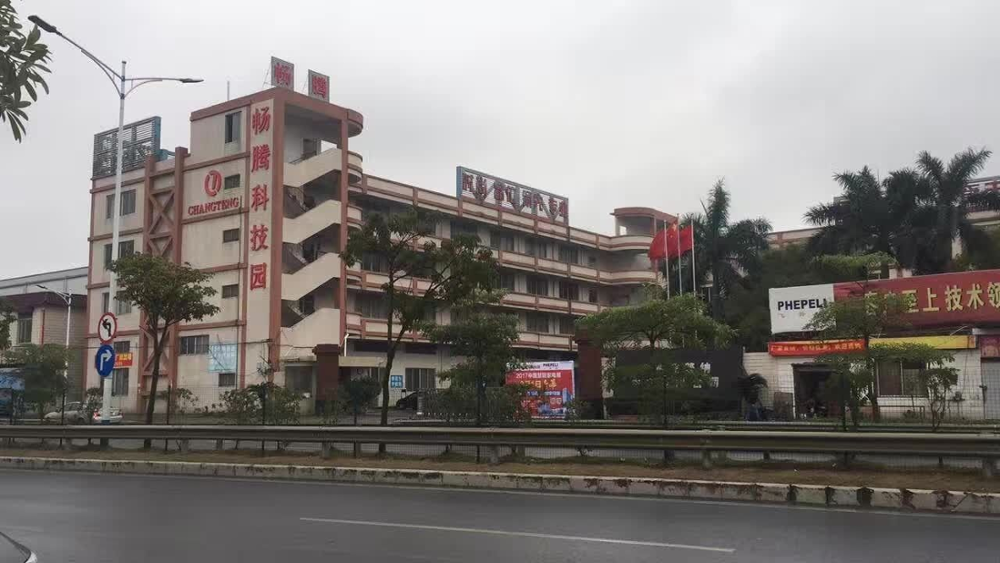 Nowadays we have two main businesses
Company First: specializing in electric lifting table, Manual height adjustable tables, etc.
Company Second: to focus on development, production and sell of intelligent gate control 
security machines, and parking lot management system. CHANGTENG is international solution 
provider in intelligent access control system. At present, CHANGTENG specializes in Barrier Gate, 
access control and parking lot management system.
We have our own furniture hardware and plastic workshop,
 formaldehyde-free panel workshop,
even we have our own R & D team
for the newly design of intelligent chip & systems. 
  We have the complete product certification.
Welcome to visit our factory!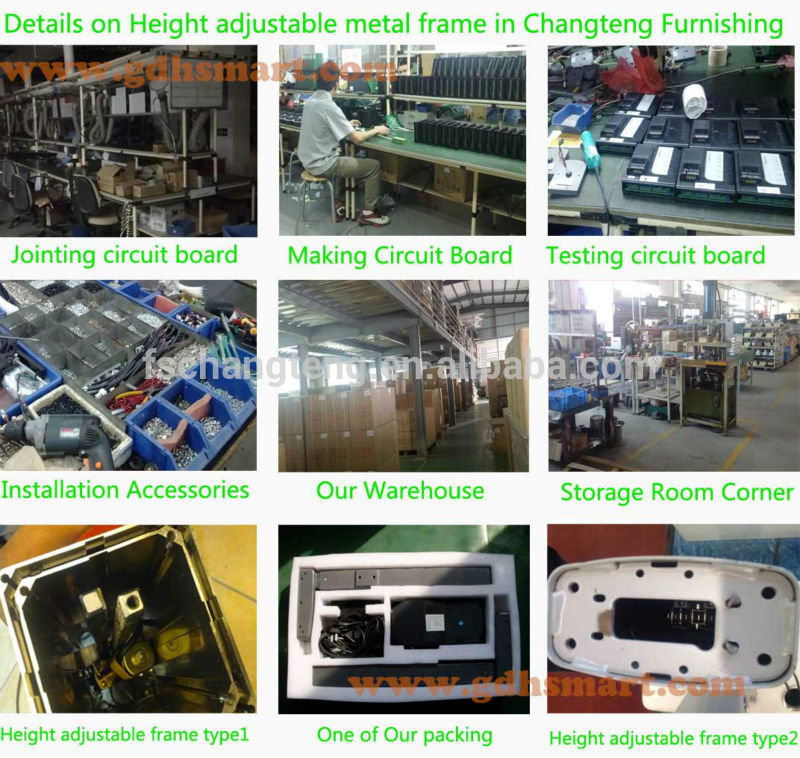 If you want to know more 
information,please contact with us!
FOSHAN CHANGTENG INTELLIGENT CO.LTD
Company Web:
Alibaba Web: http://fschangteng.en.alibaba.com
Skype: ctintelligent06

Tel:+86-757-63258283
Fax:+86-757-81897139
Add: Changteng Science and Technology Park, West of Nanzhuang Avenue, Nanzhuang Town, Chancheng District, Foshan, Guangdong Province, China. 
Product Categories : Electric Desk Frame > One Leg